Val Holmes -
Follow Val Holmes on Facebook
See current exhibitions for details.
Exhibition as invited artist at the Knitting and Stitching show in Alexandra Palace in London 2012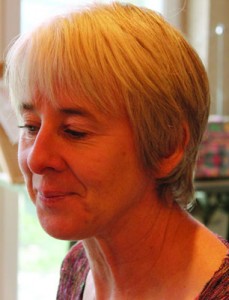 Val Holmes did her foundation course at Gloscat in the late 1970's, followed by a degree in Embroidery at Manchester Polytechnic (now Manchester Metropolitan University). Where she attained a 2:1 BA honours degree with mentions for her thesis. A further year was spent in the Fine Art department at Coventry Polytechnic.
This was followed by building up a career as a freelance artist and embroidery teacher, whilst teaching part time in an art college.
The increasing demand for her studio based courses persuaded Val to create a venue where people could study and stay in the same place, so in 1991 La Boulinerie was created out of an old farm in the Vendee and was developed into a comfortable environment with a relaxed atmosphere where students could really improve their design and embroidery techniques. She has a knowledge of art, embroidery and textile techniques and is keen to help students to be themselves and will bring out the best aspects in the students. Her skill with machine embroidery, and in teaching it, is renowned. She can put any novice at ease and help the more advanced student with personal development.
In 2005 Val and Claude moved to Luçon, to the Villa des Roses. As well as being able to offer two studio spaces and 8 ensuite bedrooms for the courses, the Galerie 43 within the Art Deco Maison Bourgeoise is a permanent exhibition space for their work.
Since moving to France Val's own work has continued to develop and is largely figurative, or abstract figurative and based mainly on her pastels and water colours. Her experimentation with different paint and surface techniques often lead to collections of more intimate work. She explains the two sides of her work as being "carnets de voyage". One is external and concerns the world outside, one is internal and concerns the world on the inside.
Val  drawing at Les Sables d'Olonne