Techniques in Detail, Detail in Techniques Dates: 24th – 30th October 2021. 29th May to 4th June 2022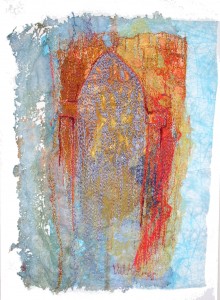 Starting with photos taken in close up, or an object seen in close-up; experiment with the multiple ways of creating and incorporating interesting surfaces into your work; Bondaweb, polyester, lutradur, tyvek, synthetic felt and metals. Learn how to really use your heat tool for exciting textures and even lace. Print, paint and embroidery techniques can all offer resists for your heat tool. These surfaces will inspire responses by hand and machine to create embroideries that are truly integrated and interesting. Lots of techniques in demonstration and practice. Integrate your results and beautiful textures into finshed pieces of work.
Suitable for Intermediate and advanced as well as enthusiastic beginners.
Tariffs pour 2021
910€ Full board in own room
860€ Full Board Sharing
395€ Non-embroiderer, full board, sharing room.
Tariffs for 2022
920€ Full board in own room
870€ Full Board Sharing
395€ Non-embroiderer, full board, sharing room.
to book your course
Please telephone
0033687848495 to talk about Your course choice
or send a mail to Valholmestextileart@gmail.com
I'm sorry but the above is not a link….we're having problems with the catch link at the moment, so please send me a real mail.
If you don't get a reply within 48 hours, please try again or phone, there is a problem.