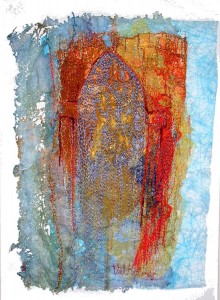 Dates: 7th – 13th May 2017
Designing with Photoshop Elements for the Textile Artist and Embroiderer for innovative textile textures
The importance of using photo enhancement programs is a great shortcut in paperwork in order to achieve the images you were hoping to find if you had progressed through various drawing and design techniques. Understanding photoshop elements will help you to be the master of this process and not just be led by the machine.
The first morning we go out and about locally to take a variety of photographs, but you may also bring your own photos with you on a jpeg format. Downloading the photos, and learning how to improve on their basic qualities will follow. From day two we enter into a rhythm of exploring several photos using just a couple of new techniques each day in order to gradually increase your understanding of the program. From each set of images thus produced in the morning, one is chosen in the afternoon to explore a suitable textile and embroidery technique to interpret the image as a sample. In this way each day you will not only have learnt and understood several new techniques with photoshop, but you will also have been able to interpret each discovery in textiles and this is so important if photoshop is to help as a design tool for you.
You will gradually learn to achieve the results you want with your photo manipulations to create inspiring images for your future textile work.
Many problems occur when using the computer as a tool for design. Too often it is the computer that leads the design process and the result seem to be part of the usual "package". This course aims to provide a serious look at this problem where through thought, reflection and knowledge you become instigator and master of the design process with a pretty clear idea of where you want to take your ideas. The computer then becomes your tool just like the other processes you use.
Suitability: All levels
Tariffs:
850€ Full board in own room
800€ Full Board Sharing
395€ Non-embroiderer, full board, sharing room.
Self-catering on application.